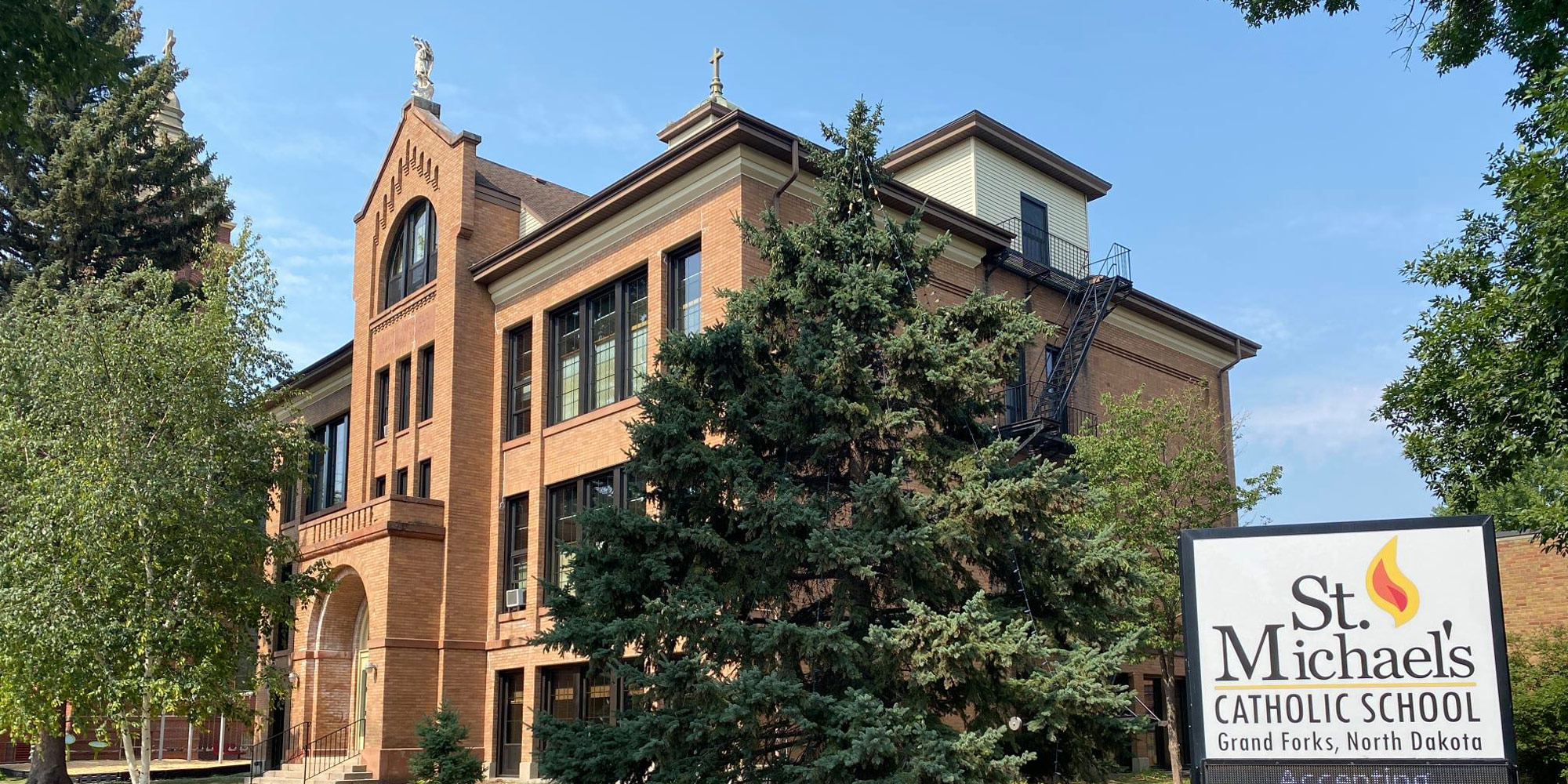 History of St. Michael's School
St. Michael's School was erected during the pastorate of Monsignor J.A. Lemieux. The desire for a parochial school had long been in the hearts of the vast majority of the people of St. Michael's Parish.
W.J. Edwards was chosen as architect. In 1915, the contract for the building was awarded to the Dinnie Brothers. The building was completed in September of 1916.
The dedication of the school was September 24, 1916, and was followed by Solemn High Mass celebrated by Monsignor Lemieux. His Excellency, Bishop James O'Reilly, an ardent apostle of parochial schools, dedicated the school.
Registration was held on September 11, 1916. and 242 pupils were enrolled. The first principal was Mother Grata Powers. Her faculty included Sister Agnes Catherine Mahoney, music; Sister Magdalene Boog, primary grades and art; Sister Mary Rose Davern and Sister Rosella Jones, intermediate instructors. Later Sisters St. Kevin Burke and Rose Elizabeth Schmitz joined the staff.
In 1947, there was an enrollment of 560 at St. Michael's. For twenty years, space was needed to accommodate the ever-growing enrollment. During the preceding 36 years, enrollment had almost tripled.
In 1948, a gymnasium was proposed with completion in 1949. In 1952 the plans were approved. In 1950 plans were made for a new school at a mass meeting called by Monsignor McNamee. U.L. Freed was an architect and contracts of 154,000 were left. About 400 members of the parish participated in a fund drive. The new school addition was dedicated on August 30, 1953. It contained six classrooms, a large cafeteria, and a modern well-equipped kitchen.
In 1969, the Catholic School System in Grand Forks was faced with insurmountable financial burdens. This resulted in the closing of St. James High School. It was deemed advisable to cut back from eight grades to six, to fit the pattern of local public schools.
In 1972, a Kindergarten program was added to the curriculum. Fourteen students were enrolled. The total enrollment for St. Michael's in 1973-1974 was 166. Remodeling was completed in the primary department.
St. Michael's began its after-school program in 2002-2003 to accommodate working parents. In 2005, it started an academic and faith-based preschool for 4-year olds getting a jumpstart on Kindergarten!
St. Michael's School works hard to support the values taught by parents in the home which is the exact reason our parents choose to educate their children in an environment that supports the traditional beliefs and values of the Catholic faith. At St. Michael's School, our teachers hold high academic standards, build character, teach compassion for others, and instill virtues of our faith in the children they teach.